To offset our weekend caloric blunders we've designated Monday as "Stir Fry Night". It makes us feel better about the weekend and starts our week off right.
I've been asked so many times over the years for a recipe or instructions for a quick stir fry but it's one of those meals that I make while on auto pilot so it's hard to explain.
So this week I took photos of each step and here's little photo tutorial: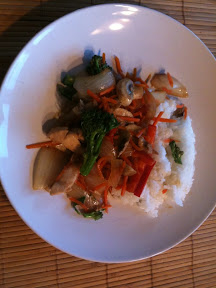 Yep thats all the explanation you get. Hey! I'm working on new mommy sleep deprivation. Sorry, I don't measure my ingredients either...Experiment and come up with your family's favorite stir fry!
Here's a great tip: Save half the uncooked cut up veggies and half of the cooked chicken for a super quick dinner later in the week.
Enjoy!
- Posted using BlogPress from my iPhone